Make your own personalized photo printed gifts with us.
We will help you create special photo printed gifts to celebrate each of your precious days like birthdays, anniversaries, engagements, weddings, baby showers, school, and college special days.
To suit your every occasion, we will give you a T-shirt with a photo print, we will also give you a choice of different shapes and colors for mug printing for your children.
We also provide a memorable magic mug to attract and amaze your spouse.
We offer you a wide range of shapes and sizes so that you can make your car key look memorable by making a photo-printed key-chain like your family member.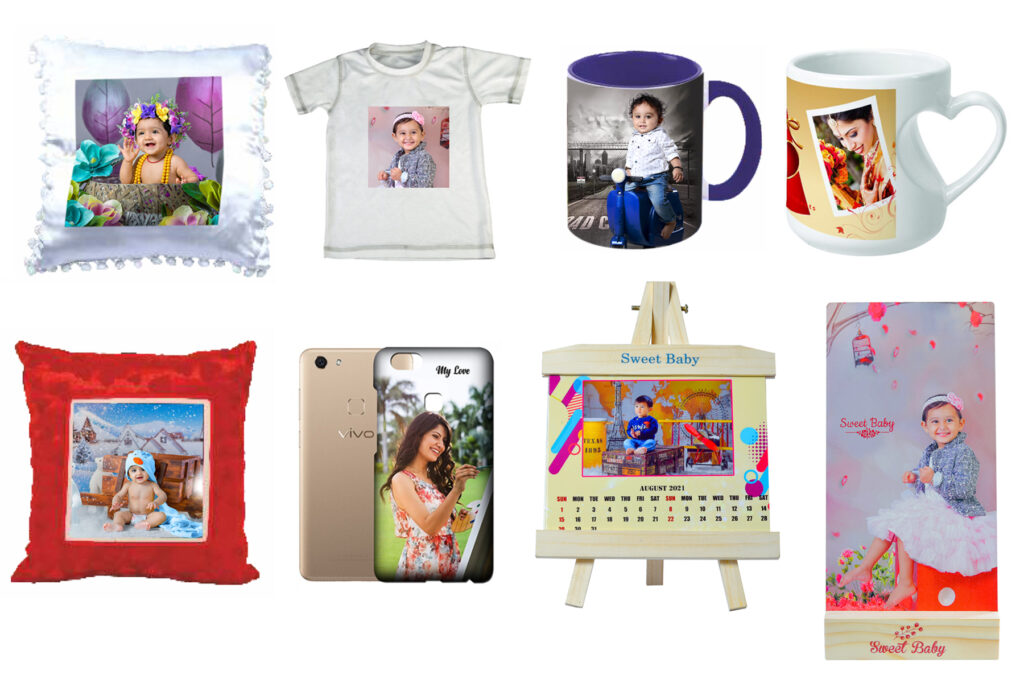 For your darling children, you can have a different fun rhythm by printing her naughty photos on the pillow. Give your children these printed pictures in your pillow and they will be happy to see.
Also in pillow print, we will give you different colors and shapes so that you can print the photo on the pillow as per your choice.
Nowadays, it is becoming more and more attractive to print customized digital photo prints on mobile covers,
We look forward to fulfilling your every dream, you can print a personalized photo on your mobile cover and even emboss it.
You can enhance your appeal by printing your photos on your iPhone, Samsung, Sony, Vivo, Oppo, Redmi, Panasonic, Motorola, or any other company's mobile cover.
The trend of printing calendars with personal photos has become very popular these days.
So we offer you a lot of variety, We offer attractive and reasonably priced tabletop calendars, wooden calendars, lifetime wooden calendars, Triport wooden calendars, and slider calendars. For more information, you can contact our customer service.
follow us on FACEBOOK personalized photo printed gift in Navsari best-printed gift of flat surface wooden, metal, mobile cover, mugs, and t-shirts.